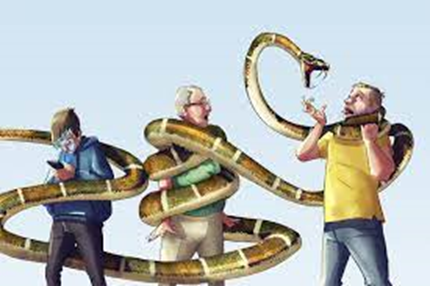 Today was my third lie in a week that didn't have to be.
Nobody was harmed, but my conscience has taken one hell of a beating.
Gone unchecked, lying gets a little more effortless each time.
My third lie was easier than the first, and I suspect the seventh might be easier than the third if this trend continues.
There's no such thing as a little white lie.
All lies are one size, and none come in white.
I can't say it was an epiphany or revelation driving to work this morning. I've known right from wrong the better part of my life. The worse parts, not so much.
I was tired and not up for what the day was about to unleash on me. So from the driver's seat, planning my fourth lie with the best cough I could muster, I picked up my phone while on the freeway fastlane opting to text my boss who would certainly detect dishonesty in my voice message that I was not feeling well. One tap closer to deception with two words left to go, I threw the phone down and barked a loud, righteous yell. I won't share the stream of disgusting terms I used to describe myself at that moment, but I was pretty convincing and feeling bad. Not bad because I was actually sick but because I was deceiving myself once again.
For me, it can't be good enough to be a "generally honest guy." After the decade long dark history from which I'd recently escaped, honesty in both the generals and the specifics is at the core of living sober, which for me means being aware of my insidious abilities to lie to myself and to others with convincing skill. I can no longer follow white rabbits down those dark paths.
So I broke the cycle, narrowly escaped my fourth lie, and got to work with sobriety intact. For now.
None of us knows what insidious mindsnakes will invade tomorrow's brain. We can only hope to catch it in time without getting bitten by the lie that binds.